Top reasons to buy
Made by Brother
Free Delivery
SSL Secured Transactions
THIS ITEM IS EX-DEMO
The LX17 is a great sewing companion for beginners. Alterations and patches come easy with this machine, which offers a blend of reliability and dexterity for everyday sewing projects. With lots of extra accessories, it gives you plenty of ways to approach routine stitching tasks.
Full Details
Condition:
Ex-Demo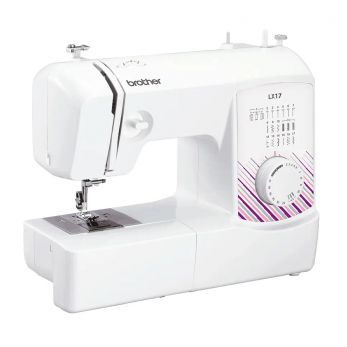 New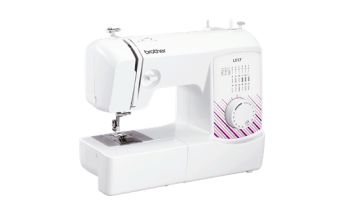 Refurbished
×
If you have a question about this product, please use the area below, click 'SUBMIT' when you're done and we'll get back to you ASAP!


Product Detail
This machine is in excellent condition and has simply been removed from its box and placed on the shelf for display. Full warranty, box, instructions and all other items are included.
The LX17 - 17 stitches in one great value, lightweight, portable machine.
This lightweight sewing machine comes with an overcast stitch and a range of accessories, making the LX17 perfect for beginners looking to add a little extra flair to their projects.
Here at Brother, we have over 100 years of experience making sewing machines, which means our products stand out. Our unrivalled expertise goes into every machine we make, all designed to meet the needs of hobbyists and designers across the globe.
LX17 Features:
17 built-in stitches - including an overcast stitch for perfect seam finishes
4-step automatic buttonhole
Extra bright LED Light
Free arm conversion
Top load drop-in bobbin
Lots of accessories
Instructional DVD included
What's in the LX17 box?
Zigzag foot "J" (on machine)
Buttonhole foot "A"
Zipper foot "I"
Darning Plate
Button sewing foot "M"
4 Bobbins (One is on machine)
Needle set (90/14 needle)
Oval screwdriver
Foot controller
Softcover
Here at Discount Sewing we have been an official supplier of the LX17 and all Brother, Janome and Elna machines and parts for the last 30 years. There is also a service department at which we can service or repair almost any sewing machine, regardless of the make and model. For more information on our services please give us a call on 01932 349400.
We at Discount Sewing offer FREE local delivery on all our sewing and embroidery machines. This delivery service covers all surrounding counties; Surrey, Hampshire, Berkshire, Sussex and Greater London. We are a family run business and have operated for 50+ years in the Surrey area. At our shop you can view lots of machines, new and second hand, and we can demonstrate any machine you might see here for you. Along with this, if you buy any machine from us you get free lessons for life at our shop and we cover the warranty. You can also part exchange your old machine for a discount of a new one.


Product Specification


Reviews