Delivery in 2 working days
Add to Basket

Top reasons to buy
Made by Brother
Free Delivery
SSL Secured Transactions
Creative perfection has never been easier. The Luminaire Innov-is XP1 is the new ultimate in luxury sewing experience. Packed with cutting-edge technology found nowhere else, it frees you to realise your sewing, quilting and embroidering dreams.
Full Details
Condition: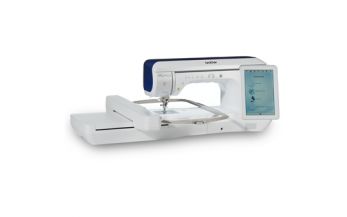 Ex-Demo
New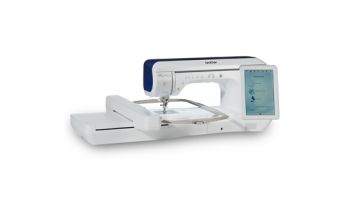 Refurbished
×
If you have a question about this product, please use the area below, click 'SUBMIT' when you're done and we'll get back to you ASAP!


Product Detail
Project directly onto the fabric for perfect placement
The Brother Luminaire Innov-is XP1 is the only sewing/embroidery machine in the world with a built-in, interactive projector. Project your design directly onto your material to see exactly where it will be positioned and bring a new level of precision to your crafts.
Sensor pen for on-fabric adjustments
Our unique 2-in-1 sensor pen works on the fabric, freeing you from the controls on-screen. Simply adjust the needle position by pressing the pen on the fabric.
Needle drop position laser projection
A T-shaped laser embroidery pointer shows you the exact needle drop position, ensuring you always start in the right place first time.
Key embroidery features:
X-Large embroidery area: 272 x 408 mm (10.7" x 16")
4 extra-large, slip-proof frames
Undo/redo embroidery design changes
Easy stippling and echo quilting
Echo quilting - extra stitch lines
Enhanced thread palette and colour shuffling
Send embroidery designs wirelessly with PE-Design 11 (additional purchase necessary)
Key sewing features:
Super long arm 13.1" (332 mm) workspace
Automatic electronic needle threading
Digital Dual Feed
Quick-set bobbin
Automatic presser foot lift
Quiet, 1050 stitch per minute motor
Dedicated bobbin winding motor
750+ utility and decorative stitches
High-res touchscreen and smart pen
Slide, scrolling, pinch and zoom with your fingers, or simply use smart pen and stylus. Edit on-screen embroidery, customise your settings and view on-screen video tutorials and built-in help guides with the Brother Luminaire Innov-is XP1?s 10.1? high definition touch screen.
Intelligent buttonhole detection
Create flawless buttonholes with the new lever-less camera buttonhole detection feature. The camera-assisted buttonhole foot recognises the size of your button and automatically determines the correct sewing size. The Luminaire Innov-is XP1 also independently adjusts the sewing speed while stitching, resulting in beautifully sewn buttonholes. The clever lever-less system stops thick fabric like fleece being caught and distorting the fabric.
Bring Disney characters to life
The enchanting world of Disney is now at your fingertips. From Mickey to Elsa to Nemo. The Brother Luminaire Innov-is XP1 can add Disney magic into your cherished creations. Access 192 exclusive built-in embroidery designs and 10 fun Disney decorative stitches.
Touchscreen controls
Quickly and easily design your own embroidery patterns, creating projects that are as unique as you are. Draw straight onto the platform with the touchscreen or scan pictures and clip art with the built-in camera scanning function ? there's no need for any additional software.
Intuitive user-friendly Interface
The Innov-is XP1 My Design Centre interface has been redesigned and now features easy to use functions, like the pan tool, up and down and side scrolling, undo/redo, flip and more.
Snowman function
The Brother Luminaire Innov-is XP1 uses the innovative Snowman sticker placement system to split and combine large patterns perfectly, and to accurately place designs on your fabric.
Join large quilt sashes. Continuous borders and oversize designs quicker than before. Instant perfection for your precious projects.

Fun auto stipple feature
You can easily add stippling embroidery to your projects wherever you like with our auto stipple and outline recognition. You?ll achieve uniform, professional looking results. Simply hoop the fabric and choose the area where you want the stippling effect to appear.
Inside/outside auto stipple & fill pattern
Get the look of complicated freehand stippling without the use of software or stitch regulation. Use the built-in library of shapes to add interesting detail to any project. You can even combine shapes and apply inside or outside stippling.
Flexible, wide decorative stitching
Most decorative stitches can be enlarged up to 120%. Or reduced by 50%, for ultimate flexibility. Our superfast technology means you can stitch these wide decorative stitches in no time.
We at Discount Sewing offer FREE local delivery on all our sewing and embroidery machines. This delivery service covers all surrounding counties; Surrey, Hampshire, Berkshire, Sussex and Greater London. We are a family run business and have operated for 50+ years in the Surrey area. At our shop you can view lots of machines, new and second hand, and we can demonstrate any machine you might see here for you. Along with this, if you buy any machine from us you get free lessons for life at our shop and we cover the warranty. You can also part exchange your old machine for a discount of a new one.
Here at Discount Sewing we have been an official supplier of all Brother, Janome and Elna machines and parts for the last 30 years. There is also a service department at which we can service or repair almost any sewing machine, regardless of the make and model. For more information on our services please give us a call on 01932 349400.


Product Specification


Reviews