Delivery in 2 working days
Add to Basket

Top reasons to buy
Made by Brother
Free Delivery
SSL Secured Transactions
With 25 stitches for you to choose from, everyday sewing tasks from repairing accessories to creating buttonholes are super easy with the LX25. This sturdy machine has been expertly designed by the Brother team to give home sewers hassle-free arts and crafts.
Full Details
Condition: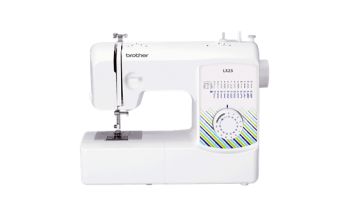 Ex-Demo
New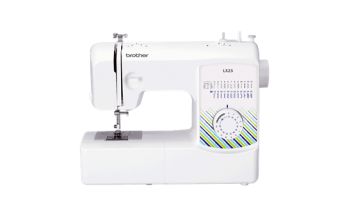 Refurbished
×
If you have a question about this product, please use the area below, click 'SUBMIT' when you're done and we'll get back to you ASAP!


Product Detail
Built on Brother's decades of expertise, the LX25 is the perfect partner for beginner home sewers.
The Brother LX25 sewing machine makes it super-easy to learn how to sew. It is super lightweight and has a bright LED light that helps you see what you're doing. Plus, the slide-off accessory compartment means that even fiddly jobs are simple to complete. With the machine being lightweight and compact you can stow it away without any fuss. Perfect for beginner sewers.
Just thread from the top loading bobbin, select the stitch you need using the front dial and adjust the length and width as needed, and you'?re ready to go.
LX25 Features:
25 built-in stitches
Extra bright LED light
Free arm conversion
4-step automatic button hole
Top load drop-in bobbin
Instructional DVD included
Zigzag foot "J" (on the machine)
Buttonhole foot "A"
Zipper foot "I"
Darning plate
Button sewing foot "M"
4 bobbins (one is on the machine)
Needle set (90/14 needle)
Oval screwdriver
Foot controller
Soft cover.
Here at Discount Sewing we have been an official supplier of all Brother, Janome and Elna machines and parts for the last 30 years. There is also a service department at which we can service or repair almost any sewing machine, regardless of the make and model. For more information on our services please give us a call on 01932 349400.
We at Discount Sewing offer FREE local delivery on all our sewing and embroidery machines. This delivery service covers all surrounding counties; Surrey, Hampshire, Berkshire, Sussex and Greater London. We are a family run business and have operated for 50+ years in the Surrey area. At our shop you can view lots of machines, new and second hand, and we can demonstrate any machine you might see here for you. Along with this, if you buy any machine from us you get free lessons for life at our shop and we cover the warranty. You can also part exchange your old machine for a discount of a new one.


Product Specification


Reviews