Delivery in 3-4 working days
Add to Basket

Top reasons to buy
Made by Janome
Free Delivery
SSL Secured Transactions
The atelier 9 has arrived! The atelier 9 is the premium machine in the series. It is a combined sewing and embroidery machine and has nearly all of features included on the MC15k, and introduces some that are brand new, such as the Stitch Tapering Function. This machine even has Wi-Fi, amazing at this price point!
Full Details
Condition: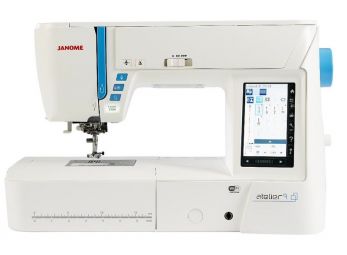 Ex-Demo
New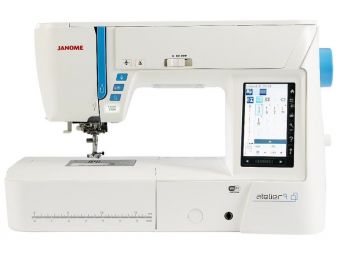 Refurbished
×
If you have a question about this product, please use the area below, click 'SUBMIT' when you're done and we'll get back to you ASAP!


Product Detail
The Janome Atelier 9 showcases some fantastic new embroidery designs, AcuFeed Flex, Embroidery Couching, Variable Zig Zag, Auto Presser Foot Lift, Cutwork, Jump Thread Trimming, Useful Apps, 22 standard feet, 3 hoops, and of course, legendary Janome quality. All in one sewing machine!
Weight - 12kg
Janome Atelier 9 Features:
WIFI
SMART AND USEFUL IPAD APPS
FULLY COMPUTERISED
ACUFEED SYSTEM
AUTO PRESSER FOOT
BOBBIN THREAD SENSOR
ONE-STEP BUTTONHOLES
COMPACT EMBROIDERY UNIT
START/STOP BUTTON
300 BUILT-IN STITCHES
AUTO 1-STEP BUTTONHOLES (16 STYLES)
9MM STITCH WIDTH
AUTO THREAD CUTTER
ELECTRONIC KNEE LIFT
BUILT IN MEMORY BANKS UP TO 4MB
EASY SET BOBBIN
USB PORT
STITCH COMPOSER
What's in the Atelier 9 box?
1/4" Seam Foot (O)
Automatic Buttonhole Foot (R)
Buttonhole Stabilizer Plate
Blind Hem Foot (G)
Bobbin Holder & Cleaner
Button Sewing Foot (T)
Button Shank Plate
Cloth Guide
Couching Foot x2 (PC-1, PC-2)
Couching Yarn Guide & Bar
Dual Feed Foot x2 (AD, VD) (twin, single)
Open Toe Dual Feed Foot (UD) (twin)
Peircing Dual Feed Foot (OD) (twin)
Zipper Dual Feed Foot (ED) (single)
Embroidery Foot (P)
Darning/Embroidery Foot (PD-H)
Free Mtion Quilting Foot x2 (QC, QO)
Free Motion Quilting Zigzag Foot (QV)
Hook Cover Plate
FA10A Hoop & Template (100 x 40mm)
RE20A Hoop & Template (170 x200mm)
SQ14A Hoop & Template (140 x 140mm)
Knee Lifter (adjustable)
Lint Brush
Magnet Clamps x4
Overedge Foot (M)
Quilt Guide Bar
Rolled Hem Foot (D)
Satin Stitch Foot (F)
Satin Stitch Foot Open Toe (F2)
Scissors
Screwdriver
Seam Ripper
Spool Cap & Holders (2x large, 2x small)
Spool Holder x2 (special)
Spare Spool Pin
Standard Foot (A)
Straight Stitch Needle Plate
Stylus Pen
USB Cable
Zipper Foot (E)
Acutools S CD-ROM
Embroidery unit Case
Foot Control
Instructional DVD & Book
Power Lead
Bobbins x4
Needles
Info
We at Discount Sewing offer FREE local delivery on all our sewing and embroidery machines. This delivery service covers all surrounding counties; Surrey, Hampshire, Berkshire, Sussex and Greater London. We are a family run business and have operated for 50+ years in the Surrey area. At our shop you can view lots of machines, new and second hand, and we can demonstrate any machine you might see here for you. Along with this, if you buy any machine from us you get free lessons for life at our shop and we cover the warranty. You can also part exchange your old machine for a discount of a new one.
Here at Discount Sewing we have been an official supplier of all Brother, Janome and Elna machines and parts for the last 30 years. There is also a service department at which we can service or repair almost any sewing machine, regardless of the make and model. For more information on our services please give us a call on 01932 349400.


Product Specification


Reviews