Delivery in 1-2 working days
Add to Basket

Top reasons to buy
Made by Brother
Free Delivery
SSL Secured Transactions
The Brother Innov-is M280D is the ideal sewing, quilting and embroidery machine thanks to its range of advanced sewing capabilities. You'll love its sophisticated sewing features, such as its automatic thread cutter and smooth, strong sewing the the longer feed and J foot. Add embroidery to your sewing and quilting projects with a magical Disney touch. Featuring built-in embroidery designs, sewing stitches and embroidery fonts, this machine helps bring all your creative ideas to life.
Full Details
Condition: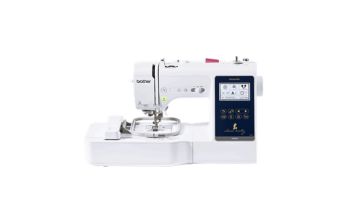 Ex-Demo
New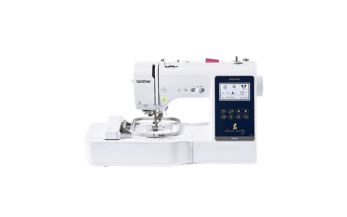 Refurbished
×
If you have a question about this product, please use the area below, click 'SUBMIT' when you're done and we'll get back to you ASAP!


Product Detail
Capture the magical world of Disney with the Innov-is M280D - a unique sewing and embroidery machine. The Innov-is M280D is packed with advanced sewing features. What?s more, you?ll love the its array of built-in embroidery patterns and stitches, which gives you performance and variety in Brother's characteristically easy to use manner. Plus, its 45 picture-perfect Disney character designs will offer you endless fun. And thanks to our 100+ years of sewing machine manufacturing experience, you can sleep easy knowing your Brother machine offers as much durability and longevity as Disney's characters themselves.
M280D Features:
125 built-in embroidery patterns, including 45 designs featuring Disney characters
181 sewing stitches
Advanced one-action needle threader
3.7" colour LCD touch screen
Automatic thread cutter
High quality performance with compact size and hard case
USB port for USB flash drive
What's in the box?
Zigzag foot "J"
Monogramming foot "N"
Overcasting foot "G"
Zipper foot "I"
Blind stitch foot "R"
Button fitting foot "M"
Buttonhole foot "A"
Embroidery foot "Q"
Needle set
Twin needle
Bobbin
Pre-wound bobbin (4) (60 weight white embroidery bobbin thread)
Bobbin clip (4)
Seam ripper
Scissors
Cleaning brush
Eyelet punch
Screwdriver
Disc-shaped screwdriver
Extra spool pin
Spool cap (large, med, small)
Thread spool insert (mini king thread spool)
Spool net
Bobbin case (on machine)
Foot controller
Embroidery frame set (medium) 10 cm (H) × 10 cm (W) (4 inches (H) × 4 inches (W))
Accessory bag
Hard case
Grid sheet set
Operation manual
Quick reference guide
Embroidery design guide
We at Discount Sewing offer FREE local delivery on all our sewing and embroidery machines. This delivery service covers all surrounding counties; Surrey, Hampshire, Berkshire, Sussex and Greater London. We are a family run business and have operated for 50+ years in the Surrey area. At our shop you can view lots of machines, new and second hand, and we can demonstrate any machine you might see here for you. Along with this, if you buy any machine from us you get free lessons for life at our shop and we cover the warranty. You can also part exchange your old machine for a discount of a new one.
Here at Discount Sewing we have been an official supplier of all Brother, Janome and Elna machines and parts for the last 30 years. There is also a service department at which we can service or repair almost any sewing machine, regardless of the make and model. For more information on our services please give us a call on 01932 349400.


Product Specification


Reviews